Conclusion
And this is how everything ended up looking: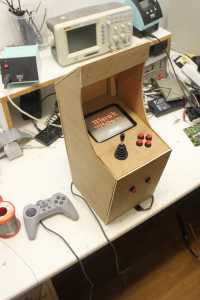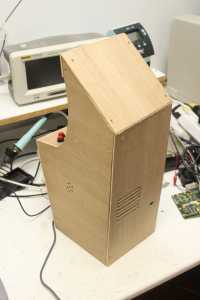 As you can see, my woodworking skills aren't as good as my soldering skills... but the construction at least doesn't fall apart easily and will protect the electronics nicely.
So, does it actually work? Mostly. The joystick I chose isn't ideal (luckily, I can still connect the Playstation controller and use that to play) and the image still has some interference from the CRTs high voltage generator, but all in all I don't think the result is too bad for something I began just to get into VHDL a bit more.
As usual, you can download the VHDL source code of my implementation of the Black Widow hardware. Everything I made is licensed under the GPLv3, the Pokey- and 6502 implementation have their own license clausules. The code is written for the Xilinx Virtex-2 but should compile for other Xilinx FPGAs too. Apart from the PLL and RAM/ROM (which use Xilinx-specific primitives), the code should be easily portable to Altera or other brands of FPGA too. Ofcourse, I can't distribute the ROMs; you should obtain these yourself and then convert them to VHDL using the tools in the source package.
A final word of thanks goes out to Claude Schwarz. If he hadn't helped me with the analog part, I'd probably still wondering why my vectors are all crooked.
25 comments