Building, installing, result
Normally when developing a circuit like this, you start on a breadboard or at least on a bit of prototyping PCB. I was fairly certain I could get a good result by just soldering components together dead-bug style to the metal of a SD-card holder. That worked fairly well when the only chip was the AVR, but in the end... Ah, take a look for yourself: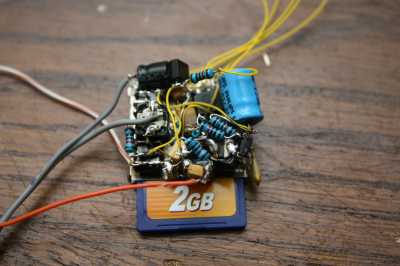 I wasn't sure if everything would fit into the enclosure of the original bell, so I built everything into a small cardboard box. I had room to spare, but that was a good thing: the empty space could act as a resonance box, increasing the sound quality and volume of the speaker by a bit.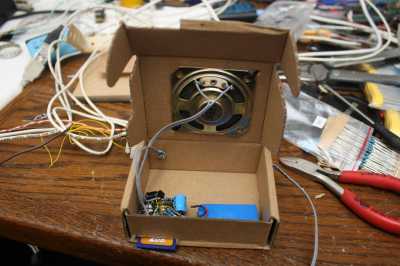 I decided to install the doorbell the evening before April Fools. It crossed my mind that my collegues might think the weird-looking new box with electronics inside was a bomb, but I live in the Netherlands and my collegues are a levelheaded bunch of people, so I decided that wouldn't be an issue. When I came to work the next day, the little box got much approval and everyone was happily surprised by it.
To give an indication of the end setup and the sound quality and volume, here's a small demo:
Anyway, as you can see, the little device worked. I'm not sure if I would recommend anyone to build an exact copy of mine because a lot of components are less than ideal: the step-up-converter is overloaded, the L293 isn't an ideal digital amplifier because it isn't quick enough and using a blue led as a 3V power supply is nothing less than a dirty hack.
As usual, the source code is downloadable. It's mostly a modification of the wav-player of ChaN from elm-chan.org which goes under its own BSD-like license. My modifications are also distributed under that license.
8 comments