Conclusion
Soooooo... with all these shortcuts, only 2K of memory to go around and mechanics hacked up out of old CDROMS and bits of wood, does it work? Well, it mostly does. It took some fiddling with the 'ink' to get a consistency that doesn't 'run' into the rift the needle creates. I eventually got good effects with a mix of banana liquor, food colouring and some corn starch. I put it in the microwave for a small while to get the corn starch to turn everything into something that's more like a gel than a liquid. With that, I had something I could make nice lines with.
I didn't have much time, so I only hardcoded two figures into the firmware: a box and a spiral. Although simple, these figures gave some pretty nice effects: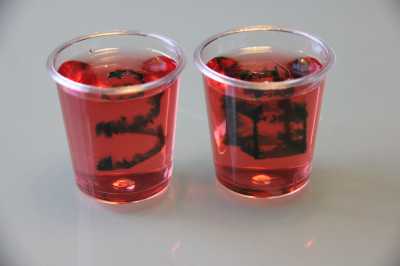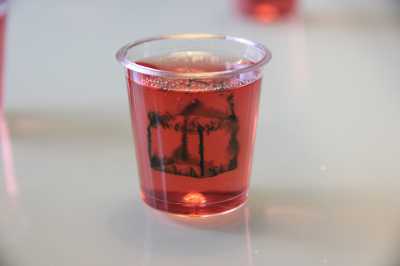 And here's a movie of the printer giving some shots of jello the treatment:

If you want to replicate this project or just would like to see how the firmware works, I've (as usual) released the sources under the GPLv3. Get them while they're hot!
15 comments