Page 1
The Onestation (+ discussion / remarks)
The Onestation
Intro
Then Onestation is a relatively new, but unknown, gaming platform. The only place I could get it in the Netherlands is here. It sells for about 30 Euro's, and that price makes it interesting enough to buy as an hacking object. I bought one plus the 9-in-1 cartridge.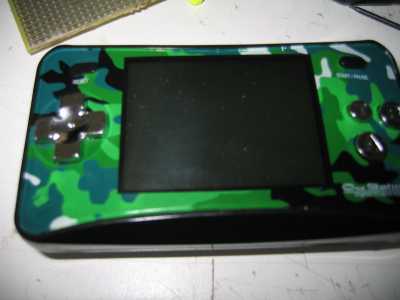 As I opened up the device and the cartridge, I saw what I already read on the Internet: the device itself consists of nothing more than the screen, a few buttons, a speaker and some power-regulating stuff. No controller, rom or ram: that's all inside the cartridge! While this is
hardly
a new idea, it is something that makes hacking the Onestation a tad different: you can connect your own microcontroller to it and make it do interesting stuff. Problem is: you'll need your own display controller...
I'm still thinking on what I could do with this, and more important: with what hardware. If you've got any ideas, don't hesitate to leave a comment. More pics and info will arrive here as soon as I find anything.
1
27 comments