Conclusion
So, does it work? With the current setup, after a few days of testing, I can tell you it works mostly. Usually when I walk past the clock, I can just see what time it is without even thinking. The clock is mounted in a somewhat dark corner of my house, but even that doesn't impede readability too much.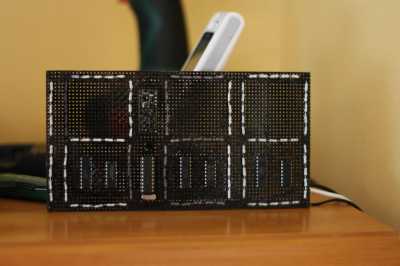 Ah, it's eighteen past noon.
At other times, I walk past the clock when the minutes have just changed. Dependent on the temperature of the room, the segments have a tendency to stay warm for a bit too long and the two numbers overlayed don't make sense. For example, a bit less than two minutes later than the previous picture, you would see this: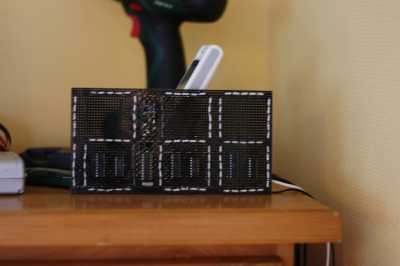 Ah, it's garblesmarble minutes past noon?
The 'ghosting'-effect caused by the slow cooldown of the resistors could be mitigated in a few ways. The resistors could be cooled by e.g. thermically connecting them to a big cooling block or perhaps a Peltier-element, but that would take up more energy than I'm willing to spend for a single clock.
A better alternative would be getting a different kind of thermochromic paint: the one I used discolors at 30 degrees celcius and my room temperature is 20 degrees, which means there's only a 10 degree temperature gradient. The speed of heat dissipation is, amongst others, a function of the temperature gradient: a larger gradient means more dissipation. Ofcourse, I could set the temperature in my room a lot cooler, but a more comfortable way would be to find a brand of thermochromic paint that changes color at 40 or 50 degrees. I have searched for it, and while these do exist, demand for it is so low that you can only get it in bulk. (If anyone does know a place where I can get just a few milliliter of this higher-temperature paint, please do contact me; I'd love to try it out on my clock!)
A third alternative would be to re-think the design of the display. A 7-segment-display gets quite unreadable when multiple digits overlap. An analog clock-lookalike based on the same resistor/thermochromic paint-principle would not have this disadvantage: the 'ghosting' digits would form a nice trail behind the clocks virtual hands, not impeding the time read-out at all. Perhaps I should make me one of those... Perhaps in another year.
10 comments