Conclusion
So, does it work? Quite well. When the contraption on, there's nothing out of the ordinary visible on my wall:


But when you take a picture with a camera that's sensitive to infrared light, suddenly two big bright spots appear: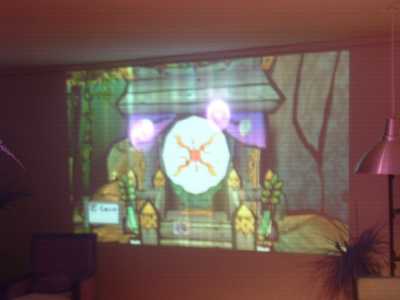 (And yes, they're not perfectly horizontal because I messed up while gluing the reflectors to the leds -- it doesn't really make itself felt when you play a game though.)
Ofcourse, I can't make a photo of the gameplay, but the contraption works like a charm: no more mis-pointing the Wii because the sensor-bar is lying on a table or disappearing cursors because the it's too far away. I'm quite happy with it and even games relying heavily on the WiiMote as a pointing device, like Okami, play great.
15 comments