Result
With the PCB made and the 3d-printed parts printed, it's time to put it all together.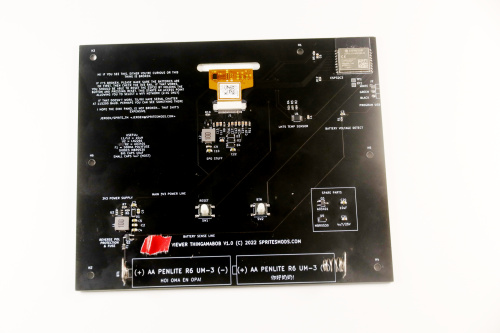 The back of the PCB contains all the electronics. The PCB is actually designed for repairability: if it breaks and I'm not around to fix it, I might have a friend or two around who are good with electronics and can take a look at it. That means there's some debug instructions on the back and even some spare components in case something breaks. Otherwise, the PCB is pretty sparsely populated: its dimensions are mostly defined by the size of the E-ink display on the other side. The amount of space would have allowed me to use larger components, but I have reels and reels of 0603 parts around, so I stuck with those for the jellybean bits; using a good soldering iron and a binocular microscope, I'm perfectly comfortable soldering all that by hand.
The case, with the white mat in it. The mat has a cutout for the E-ink display: even if somehow the adhesive that sticks it to the PCB would come loose, it still would be kept in place by that. The case is closed using screws that screw into brass inserts. The brass inserts are fixed in place by heating them up using a soldering iron (with an old corroded solder tip inserted, I don't want to damage any usable tips) and melting them in place.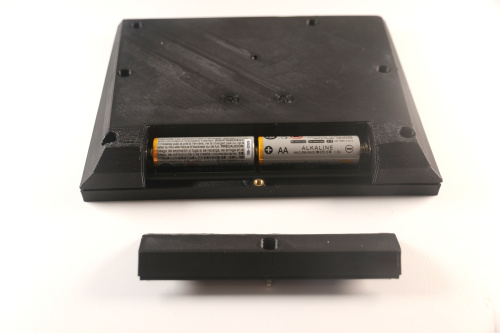 Everything goes together with a bunch of M3 screws. The battery compartment has its own little flap, so you don't need to disassemble the entire thing to replace them. The batteries should last more than a year, according to my calculations. Also note that there's two buttons in the back. One is directly connected to the ESP32 reset, the other is a general purpose GPIO. The reset button is usable to make it do a connect-and-refresh cycle manually, and has the side effect that it'll show the next picture in line. The other button, when held when the picture frame is reset, starts up an access point that allows you to connect to it and reconfigure the WiFi network it connects to.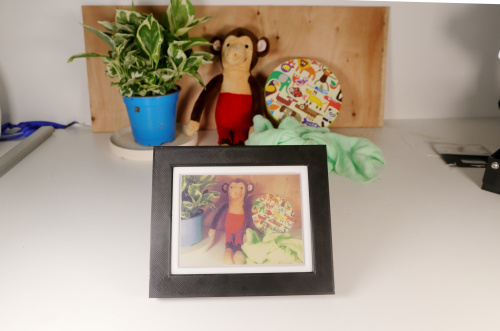 And this is the end result. As pictures go, this one doesn't have the best fidelity ever, but the fact that we can send it a new photo every day from the other side of the world more than makes up for it.
As usual, this project is open-source: with a 3d-printer, access to a server and some skills, you can make your own version of this picture frame. All sources, PCB artwork etc can be found on Github.
8 comments