Conclusion
After using it for a while and getting out the obvious bugs, it looks like the soft- and hardware now is as stable as it was the last 15 years. I think this should be sufficient to make the clock radio useful for the next 15 years again.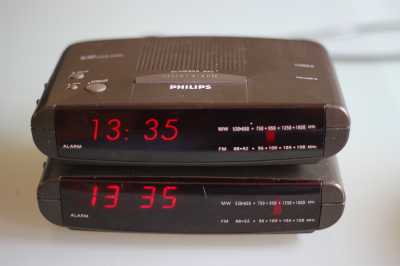 Ofcourse, this project is open-source. You can grab the
patch
I made to the Carambola-kernel if you're interested in how I integrated the OLED and the other chips in the OS. If you want to do something interesting with the userspace clock radio code, feel free to nab the sources using Git:

git clone http://git.spritesserver.nl/clockradio.git

Also, feel free to download the artwork of the PCBs I made. I made the design in gEDA pcb and the version up for download has all the issues fixed that I found in my builds.
Unfortunately, I see no easy way to put online the openwrt tree I used to make the image for the Carambola. If you do have a use for it, make sure to contact me and we'll work something out. Also, if you do something with my code, I'd love to hear about it.
20 comments