Do you like my hacking? If so, please consider leaving something in the

Or use Bitcoins:


Current contents:
EUR75 (about $82.5) and a bunch of cool hardware.
Follow Spritesmods on Twitter!
Conclusion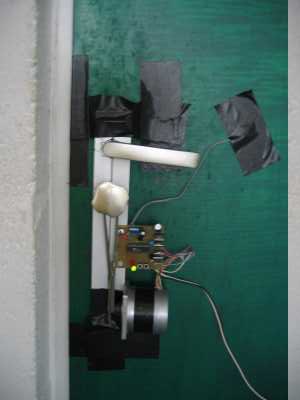 While building the mechanics and tuning the electronics took me longer than expected, the result was really nice: all the hardware neatly fit on the inside of the door, without using screws or nails or anything else that would damage the door. I used gaffer tape to make sure the device stays in place, but that's more a security measure than a neccesity.
The device works quite well, too: I've made a quick movie to show it off. The only problem is that opening the door assumes that you can keep a rythm in your knocks, and unfortunately, the people in the flat where it's installed don't all seem to be musical enough...
48 comments