Conclusion
Well, it looked like I finally had my own micro-magnet robot plus a tiny bit of controlling surface. I even had a plausible way of matrix-ing the thing, allowing for larger surfaces, by using diodes. And best of all, I had the satisfaction of having solved the puzzle with just a blurry video as a starting point.
Yet the question remained: was this indeed the same way as SRI International used to make their robots zip around and do interesting things? After some research, I found out they have patented their methods, and ofcourse patents are freely available to the public. In this case, patent number 8593016, for a "Levitated Micro-Manipulator System" is the one we're looking for.
Wait, what, a Levitated Micro-Manipulator System? Well, if you have watched the original video, you may have noticed the bots didn't usually actually move on the bare PCB material; it seems a silver-grey material is put over it and the magnets move over that. My first thought was that this material was used to lessen friction, and in a way I wasn't wrong. According to the patent, the material is diamagnetic. A diamagnetic material has the property that it will basically repulse any nearby magnets, which means that if you have a strong diamagnetic material and a strong magnet, you can make the one float on top of the other one. By using this material, SRI nearly eliminates friction and can use currents of a few mAs to move the magnets around.
I presume the advantages of needing only a few mA to move the robots around are obvious. If not, here are the unfortunate victims of me trying to push too much power through the PCBs: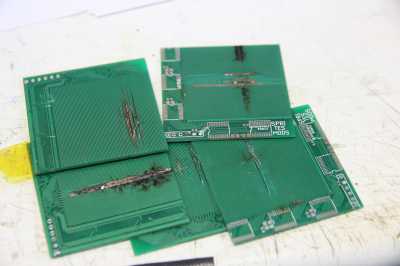 In case you want to improve on what I did, you can download the archive with the PCB designs and the programs I used to control my PCBs, and if you manage to get better results than I have, I'd appreciate a note.
13 comments