Do you like my hacking? If so, please consider leaving something in the

Follow Spritesmods on Twitter!
Conclusion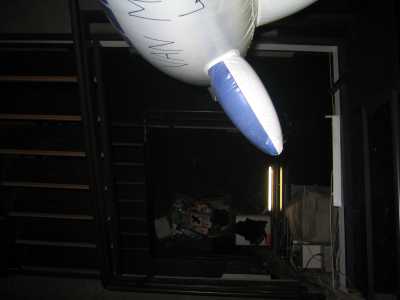 While I usually do more useful things with my skills than pranking co-inhabitants of my flat, the usage of off-the-shelf items meant I could complete this hack in about an hour, and hey, being able to do some Monty Python-esque humour is worth it any time.
I know you guys (and/or gals) were expecting some nice footage of people being struck by the plasic inflatable beastie, but I don't have a webcam hanging next to the fish yet, and grabbing a camera and running out of my room when I hear screams turns out to be way to slow. I might add a webcam later, or perhaps I'll be more lucky with my normal camera; when that happens, I'll post pics.
12 comments