Page 1
Intro
Page 2
Teardown, serial port
Page 3
Running custom code
Page 4
Conclusion (+ discussion / remarks)
Intro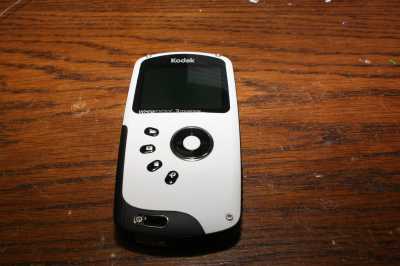 This year, I got an early christmas present. A big dutch forum I'm a moderator at decided to play Santa and give all of the crew a nice piece o' hardware to thank us for what we do: a brand new Kodak ZX3 camera. The camera is basically a roughly telephone-shaped, handheld device which can record pictures up to 5 megapixel and movies up to 1080P. It's waterproof (up to 3 meters) and extra rugged too: the idea is that you can take it when you go waterskiing or diving and record the experience.
The forum I mod is full of computer enthousiasts, and even before I got the present myself, another member already ran the Unix 'strings'-command on a firmware image from the Kodak site. Interesting stuff like 'Ambarella System Software Running on PrKERNELv4' and references to a service menu and shell comands made me think this device must be able to do more than what Kodak meant it to do.
So, as soon as I got the package containing my own camera, I recorded a movie or two to check if it was actually working and then opened the case. The warranty on that one didn't even last for two hours...
1 Next »