Page 1
Intro
Page 2
Hacking in the SATA-ports.
Page 3
The PCI-Express port
Page 4
Conclusion (+ discussion / remarks)
Do you like my hacking? If so, please consider leaving something in the

Or use Bitcoins:


Current contents:
EUR75 (about $82.5) and a bunch of cool hardware.
Follow Spritesmods on Twitter!
Conclusion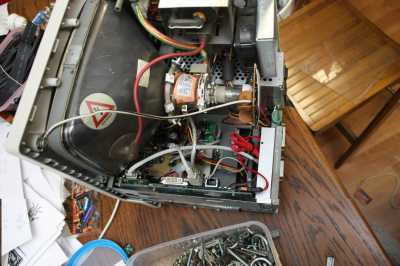 After everything was soldered in place, I basically removed the obsolete Dockstar from the MacSE case, screwed the T5325 plus network card to a bit of plexiglass and screwed everything to the chassis of the MacSE. Unfortunately, the network-port now wasn't in the correct place anymore... but a small extension cable made from a bit of UTP and an RJ45 jack fixed that.
So, did all the solder, glue, wire and hacking end up working as a server? I'm happy to say it actually does. The speed to the HDs seems to have improved over the old solution which used USB2-to-SATA-converters, my rsyncs won't crash with out-of-memory-errors and while I had to recompile my framebuffer module to the new kernel, even the mac-emulation still runs perfectly fine. I've only run this setup for a few days yet, so I can't say if the contraption will stay functional or if the soldered wires end up bringing the complete system down in the future, but everything seems stable for now.
17 comments