Some final notes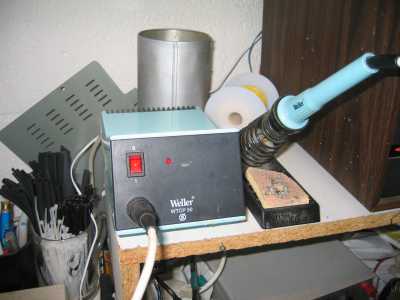 If you decide to build this schematic too but are afraid to void the warrantee on your precious Weller, keep in mind: the schematic is connected in parallel with the soldering iron, so it should be possible to make a male-and-female-connector construct to go between the soldering iron and the station itself. If the circuit is connected to that, no modifications to the iron or station themselves are necessary.
If you have trouble getting a 24V zener: you can put zeners in series, so 2X12V will work too. If you can't get any zeners at all, it's possible to substitute the zener for a 22K-resistor, but the circuit will get a lot more difficult to calibrate.
And one final warning, if you decide to open your soldering station: be careful, there's mains voltage in there which can give you a nasty shock. You might want to use a different soldering iron to connect the schematic to the transformer, so you can leave the station unplugged. Offcourse, I'm not responsible for whatever you do to yourself or anything else after reading this article.
20 comments